Superior Security Services
MM Security provides professional and specialized site specific Uniformed Security Gaurds to our clients. We carry out free risk threat assessment of the site & recommend best possible cost effective solution to manage risk.
Established in 2005, We are a young and  growing company in the security and protection industry. With over fifteen years experience, MM Security offers clients an unrivaled combination of highly skilled and trained security professionals with sophisticated security systems and technologies.
All of MM Security's professionals abide by and endorse the MM Security Code of conduct, which respect the value of discipline, reliability, integrity, effective communication, professionalism and client satisfaction.
With a full range of cost effective, custom and specialized security and protection services tailored to your requirements, MM Security is committed to protect what is valuable to you.
Security Guard Services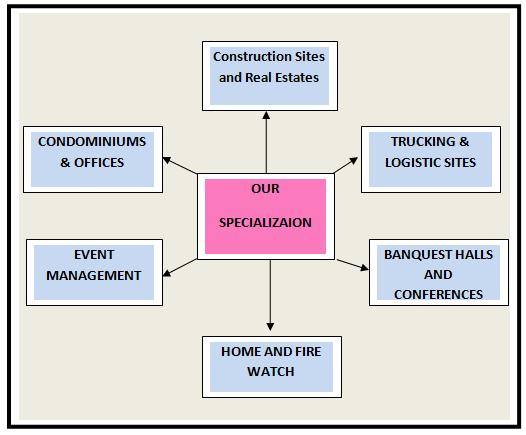 MM Security Team
MM Security employs the best individuals in the security industry. Security Services Team is lead by Rocky Mehta, M Sc, M Phil, CPP a certified member of Anti Terrorism Accreditation Board, USA.
We are proud of our team of specialized managers, supervisors, technology personnel, drivers, uniformed Security Guards, and specialized sales agents, all of whom work together to provide superior security and reliable protection.
The MM Security team is well trained and highly experienced in the areas of security audits, emergency response management, policy development, threat and hazard analysis, physical security assessments, program system design and security implementation.
MM Security's Trainers are highly qualified in the security industry and have provided their expertise to many high profile Security Guards.
Security Guards
All our Security Guards are selected based on their experience in by-law enforcement and security. They are deployed aftersite-specific training & approval from our clients.
Supported by MM Security Dispatch Center and supervised by patrol car, 24 hours a day, seven days a week.  MM Security's team is comprised of dedicated, physically fit and qualified professionals.  Clients can be certain that they will receive the highest quality of security operations and services.
We specialize in the following Services:
 Uniformed Security Guard Services.
 Specialization in Condominiums, Construction sites, Industry and Office complex security.
 Security Survey and Risk Assessment.
 Parking Enforcement.
 Special Events Security.
 House Watch When Owners Away On Events like Weddings / Vacations.
 Fire Watch On Sites When Alarm Systems Are Not Working.